Residential Construction COVID-19 Update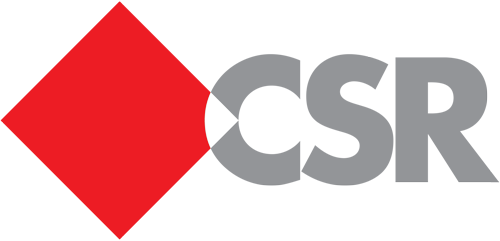 Dear Valued Customer:
As many of you know, our Governor, Jay Inslee issued a "stay at home" order last night for Washington State in an effort to reduce the spread of the Corona Virus COVID-19. Residential construction is excluded from this policy, so our work is allowed to continue. We remain in operation and are ready to service your re-roofing or roof repair needs.
Safe Social Distancing:
While we will continue to work, we will also be practicing safe social distancing at all times. That means that we will still work with you to discuss your roofing needs, but we will do so remotely. Please contact your Estimator via email or phone with any questions you have about the proposal we have provided.
Spring Time Re-Roofing and Roof Repairs:
As we head into spring, now is a great time for the work on your roof to be done!
We look forward to working with you and are committed to servicing your roofing needs quickly, cost effectively, and safely. Please let your Estimator or Sara in our office know if you have any questions at 425-485-0111 or via email at info@cornerstoneroofing.com. For more updates, please visit our facebook page.
Best Regards,

Bill Sullivan, CEO
Cornerstone Roofing, Inc.
See our previous blog post on COVID-19 here. 
Please find the letter here: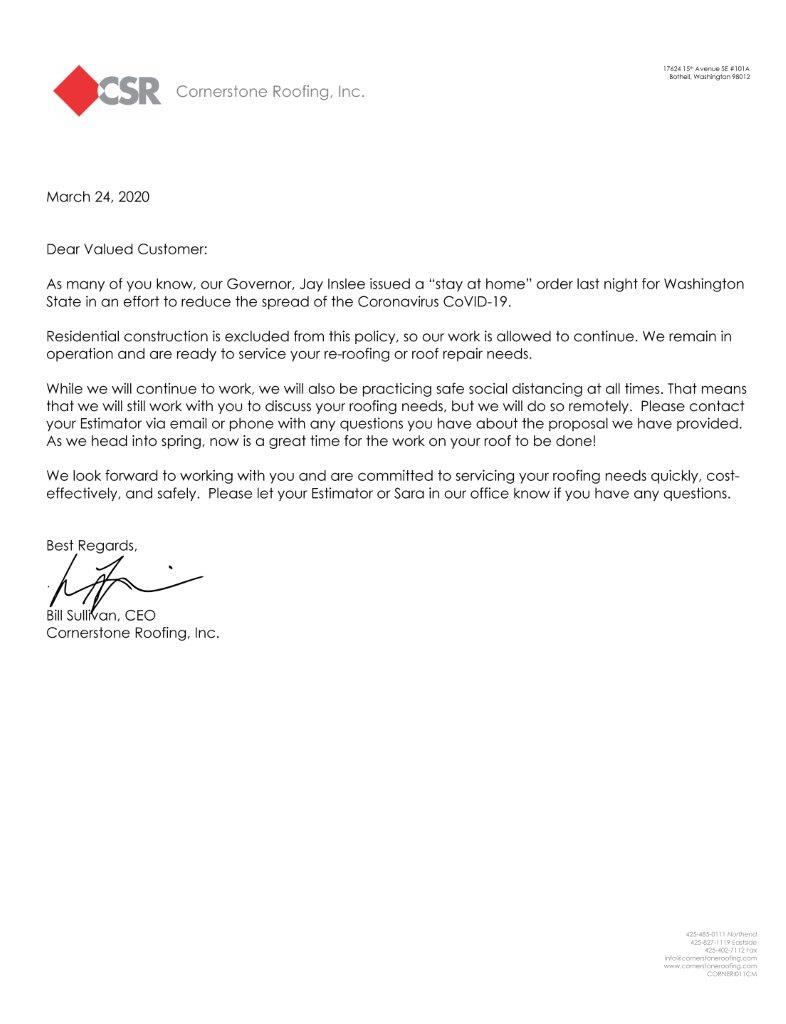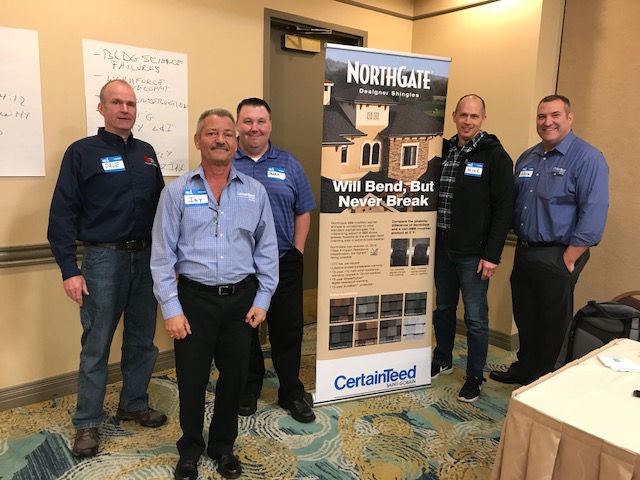 It was an honor for 
Cornerstone Roofing, Inc.
 to be invited to participate in 
CertainTeed Roofing's Professional Roofer Advisory Council (PRAC) Meeting
today in Washington. "The PRAC is composed of a select group of experienced and respected professional roofing contractors chosen based on their record of achievement and expertise in the industry." – 
CertainTeed
. We got to discuss business operations, trends and products in the roofing industry, and more. Thank you 
Ce
rtainTee

d
 for having us!
Pictured above from left to right: Cornerstone Roofing Estimator Dave Lundeen; Jay Butch, Director of Contractor Programs for CertainTeed Roofing for 20 years; Mark Ivers, CertainTeed Territory Manager for 15 years; Cornerstone Roofing Estimator Mike Leary; and Greg Palandrani, NW Region Sales Manager at CertainTeed Corporation for 25 years.