Winter Preparedness from Cornerstone Roofing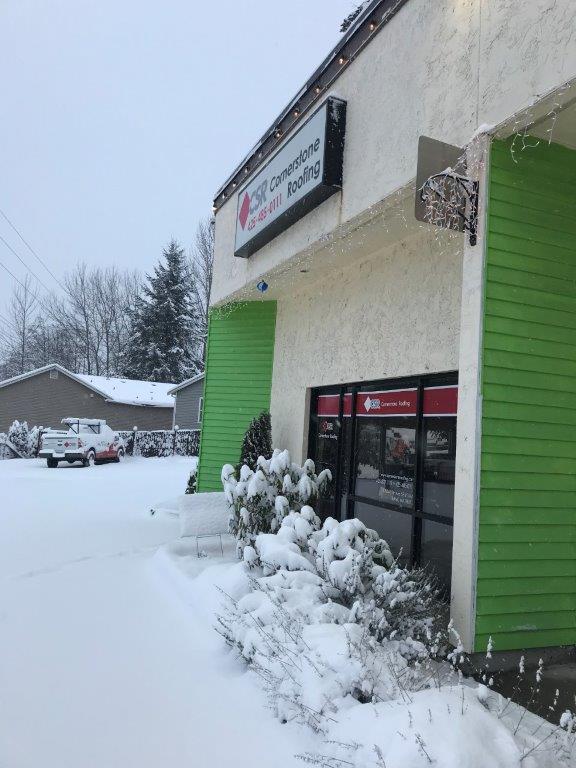 We at Cornerstone Roofing would like to share some preventative measures to protect your home and roof this winter season.  
Cornerstone Roofing receives many calls this time of year from homeowners asking for help with leaking roofs. We have a dedicated team of technicians in our Repair Division that solely repair existing roofs, whether it be flashing, shingle, skylight, etc. related.  
On many of the roofs we visit, we find that any and all of the three suggestions below can help prevent leaks and resulting damage from water intrusion. Cornerstone Roofing's Owner, James Latter, recommends the following: 
Roof Cleaning and Maintenance:
Cleaning debris from behind skylights and chimneys, in valleys, and in gutters, will allow water to flow off the roof correctly.  Problems occur when water sits on a roof and pools in debris.  A combination of debris and water results in moss. In our northwest climate, moss and algae growth are always a problem and can result in premature failure of a roof system.  Keeping debris off your roof is the most effective way to keep moss from growing and eliminate potential roof problems. 
Roof Inspection:
A roof inspection can be very beneficial in preventing roof problems and alert you to potential issues that can be remedied before they become costly problems.  
Roof Ventilation:
As we are in the cooler months of the year, proper venting becomes critical. If attic venting is incorrect, warm air coming from the house will condensate when it collides with the cold air and eventually mold and mildew will grow in your attic. There sometimes can be significant costs associated with proper venting but compared to mold abatement, it is a very small investment. We invite you to contact us at Cornerstone Roofing at 425-485-0111 to request a free roof estimate and have your roof inspected during these winter months. We are currently offering a Winter Discount of $475 Off a complete roof replacement if scheduled prior to March 1, 2019 (must give the Winter Promotion code "CSRROOF475" to your estimator at time of contract signing; not valid on past or in progress work). We offer free roof estimates via email at info@cornerstoneroofing.com, or our Free Estimate Request form on our website at https://cornerstoneroofing.com/estimate/.   
We look forward to taking a look at your roof!  
About Cornerstone Roofing, Inc.:
Cornerstone Roofing was founded in 1996 and has grown from a small, family owned company into an award winning, top quality rated roofing contractor in the greater Puget Sound area, servicing King and Snohomish counties. Cornerstone Roofing's leadership team upholds a strong standard of excellence in the roofing industry and displays extensive knowledge in residential and commercial steep slope roofing, roof repairs, roof maintenance, gutters and downspouts, and skylights. Cornerstone Roofing holds elite credentials with the United States' top three major roofing manufacturers and is dedicated to providing its clients with a dependable roof system through high quality workmanship, superior materials, and a premium level of customer service. Cornerstone Roofing is a licensed, bonded, and insured roofing contractor (CORNERI011CM). For more information, contact info@cornerstoneroofing.com or visit https://cornerstoneroofing.com/.   
# # #