Cornerstone Roofing Earns 2018 Angie's List Super Service Award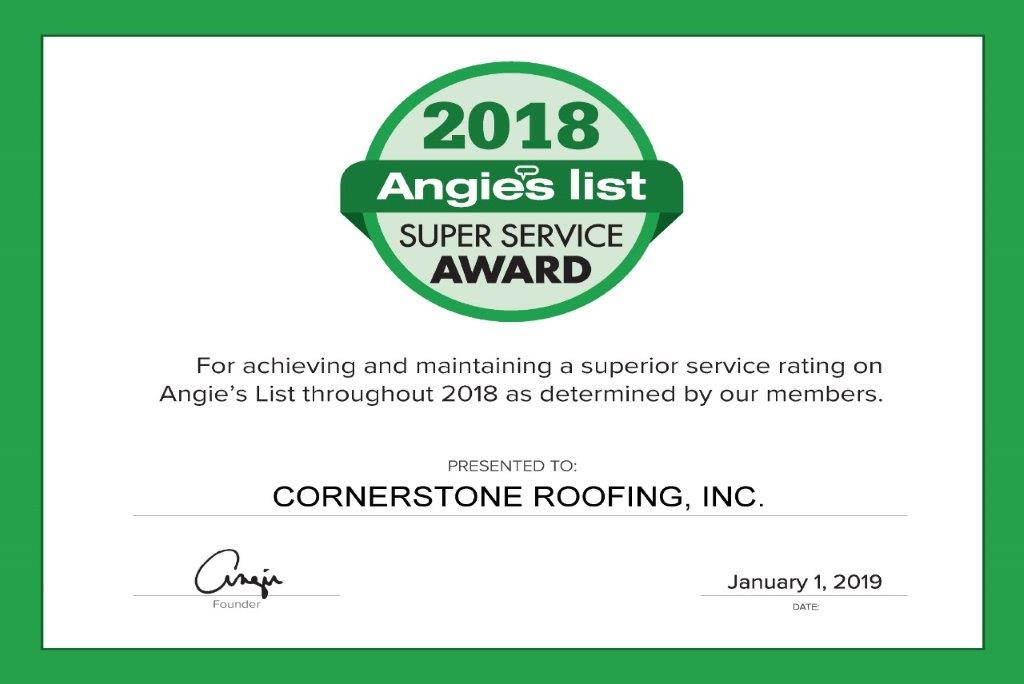 Cornerstone Roofing is proud to announce that we have earned the home service industry's coveted Angie's List Super Service Award (SSA) in both the "Roofing" and "Skylights" categories. This award honors service professionals who have maintained exceptional service ratings and reviews on Angie's List in 2018.
"Service pros that receive our Angie's List Super Service Award represent the best in our network, who are consistently making great customer service their mission," said Angie's List Founder Angie Hicks. "These pros have provided exceptional service to our members and absolutely deserve recognition for the exemplary customer service they exhibited in the past year."
Angie's List Super Service Award 2018 winners have met strict eligibility requirements, which include maintaining an "A" rating in overall grade, recent grade and review period grade. The SSA winners must be in good standing with Angie's List and undergo additional screening.
"Cornerstone Roofing is honored to have received the 2018 Super Service Award in both the "Roofing" and "Skylight" categories. Since 1996, we pride ourselves on giving our customers honest, ethical proposals based on accurate roof measurements. We appreciate our customers' gracious reviews on Angie's List and are thankful to have received this award," shares President James Latter.
Cornerstone Roofing has been listed on Angie's List since 2007. This is the 11th consecutive year Cornerstone Roofing has received this honor (Roofing, Skylights, and Gutter Repair and Replacement categories).
Service company ratings are updated continually on Angie's List as new, verified consumer reviews are submitted. Companies are graded on an A through F scale in multiple fields ranging from price to professionalism to punctuality.
For over two decades Angie's List has been a trusted name for connecting consumers to top-rated service professionals. Angie's List provides unique tools and support designed to improve the local service experience for both consumers and service professionals.
Check out our A rated reviews on our profile here.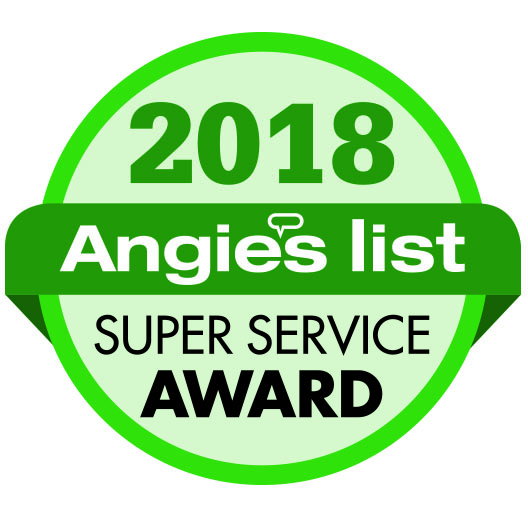 About Cornerstone Roofing:
Cornerstone Roofing, Inc. is a licensed, bonded, and insured roofing contractor specializing in Cedar Shake (Wood Shingle) and Composition (Asphalt Shingle) Residential and Commercial Roof Replacements, Roof Repairs, Gutters, Skylights, and Roof Maintenance, and has been servicing King and Snohomish Counties since 1996. We employ all of our knowledgeable, certified roofing crews and our leadership team has extensive experience in all aspects of the roofing industry. We are dedicated to providing our clients with a dependable roof system through high quality workmanship, superior materials, and a premium level of customer service. We are a company large enough to handle any of your residential roofing needs, yet small enough to monitor your project from start to finish to assure your complete satisfaction. Cornerstone Roofing holds elite credentials with the United States' top major roofing manufacturers (CertainTeed SELECT ShingleMaster Tenured Member Roofing Contractor; CertainTeed Master Shingle Applicator certified; CertainTeed Shingle Quality Specialist certified; CertainTeed Roofing Responsibly Recycling Program Contractor; Owens Corning Roofing Preferred Contractor, Owens Corning Roofing Contractor Network Shingle Recycling Pledge contractor).
For more information; to learn about our No Payments, No Interest for 12 months (on Approval of Credit); or to request a Free Estimate, please visit our website at https://cornerstoneroofing.com/estimate/, email info@cornerstoneroofing.com, or call our office at (425) 485-0111. We look forward to speaking with you!